For many years the team at National Springs and Wire Products NZ Ltd has worked on growing our reputation as New Zealand's most comprehensive solution provider for springs, wire forms, metal fabrication, and predator traps. Now, we are creating four brands, each still related but each one specialising in what it does best.
The reason why we are doing this is that we know it will make things better for you, our customers. The creation of four brands means:
A focus on core business.
Each brand has its own team of skilled professionals who know how to manufacture products guaranteed to satisfy.
A focus on quality.
The sales and manufacturing team within each brand is made up of specialists. That ensures quality results and 100% customer satisfaction.
A focus on delivery.
The more products a manufacturing facility creates, the more challenging it is to deliver on time. Separating out our brands will enable us to respond to our customers' timeframes and meet your deadlines wherever you are in New Zealand.
A focus on efficiency.
By focussing on its core business, each business is able to lower stock holdings and invest instead on quality plant and equipment. That means efficient manufacturing with savings passed onto you, our customers.
A focus on customer relationship.
We are able to offer our customers the confidence of dealing directly with the people who understand your product and what you need.
As a customer-focussed manufacturer we are proud to present the four brands that make up National Springs and Wire Products NZ Ltd. We look forward to continuing to serve New Zealand with specialised and high-quality wire and metal fabrication needs.
National Wire - wire supply specialists

National Wire are New Zealand's wire supply specialists offering a wide range of wire options to suit almost every wire project.
If you are looking for a local New Zealand wire supplier, National Wire are the best. We carry a wide range of wire options starting from 0.20mm gauge and up to 8.0mm gauge stainless spring steel and 0.315mm to 12.7mm carbon spring steel. We also supply pre-galvanized, and mild steel wire.
All wire available from National Wire is available in a multiple of forms from small rewound coils to full size one tonne stems. We can also supply cut lengths and formed products.
National Wire delivers quality wire throughout New Zealand and we have been in the business long enough to know that sometimes your need for wire can be urgent – we will do the best we can to meet your manufacturing or supply deadline.
If you need something special, we have the team to source and deliver in whatever volume you require.
Whether you are a manufacturer or a supplier, if you have a wire need anywhere in New Zealand, contact National Wire.
National Springs - spring and wire form manufacturers

National Springs are renowned as one of New Zealand's leading custom spring and wire form manufacturers.
Our highly skilled team utilise specialised machinery and expertise to design and fabricate compression springs, extension springs, torsion springs, garage door springs and other wire form products.
The experience and expertise of our skilled technicians and designers means that we are well-equipped to handle a wide range of spring and wire challenges including custom spring and wire solutions.
Using Computer controlled (CNC) technology, every spring is produced to the customer's exact specification, and we focus on delivering consistent performance, durability, and reliability with every spring we make, ensuring that they can withstand the demands of their intended use.
For all your spring and wire form needs, contact National Springs.
National Traps - predator traps for New Zealand

National Traps are manufacturers of predator traps designed for New Zealand predator species and the New Zealand outdoors environment.
It's because we believe so fervently that we are making a positive difference to the New Zealand ecosystem that we have a dedicated team devoted exclusively to providing predator traps throughout New Zealand.
As New Zealand predator trap manufacturers, we take our job seriously. We are committed to Predator Free 2050, a Department of Conservation initiative that is working towards a country where our native species are safe from extinction and thrive alongside us.
Effective stoat, hedgehog, possum and rat traps play a vital role in ridding New Zealand of invasive predators that place native species at risk. That's why it's important that the pest traps you use have been independently tested and proven in the field – like National Traps predator traps have been.
Please visit the National Traps website dedicated to our New Zealand-made predator traps.
National Metal Fabricators (Sands Industries) - wire and metal design and fabrication

Established in 1963, Sands Industries Ltd has decades of experience in the wire and metal fabrication industries. Using state-of-the-art equipment, our skilled craftsmen create a wide range of custom metal products, from small components to large structures.
Small componentry includes a range of springs and wire form products. We manufacture in large runs for factories and suppliers, or we can custom design and build bespoke wire products for one-off projects or prototypes.
From design to manufacture, our specialist metal fabrication team will bring your metal project to life. Outside of specialised projects brought to us, we manufacture gas bottle trolleys, blast chiller racks and stillages, plant supports, plant trolleys and hospitality equipment – this product range demonstrates our expertise and versatility.
National Metal Fabricators (Sands Industries) is situated in Christchurch, New Zealand meaning the wire products and manufacturing service provided by National Springs are now available in the South Island cutting down on the time of delivery and saving our Southern customers on delivery costs.
Please visit the Sands Industries website to find out more about our wire and metal fabrication services.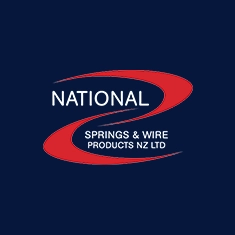 National Springs and Wire Products NZ Ltd is New Zealand's most comprehensive solution provider for springs and wire forms. Our unrivalled in-house design and development expertise ensures that you get the right solution for your specific project. Our state-of-the-art CNC equipment delivers high-quality, accurate and consistent product flow – fast.