NZ Made Garage Door Springs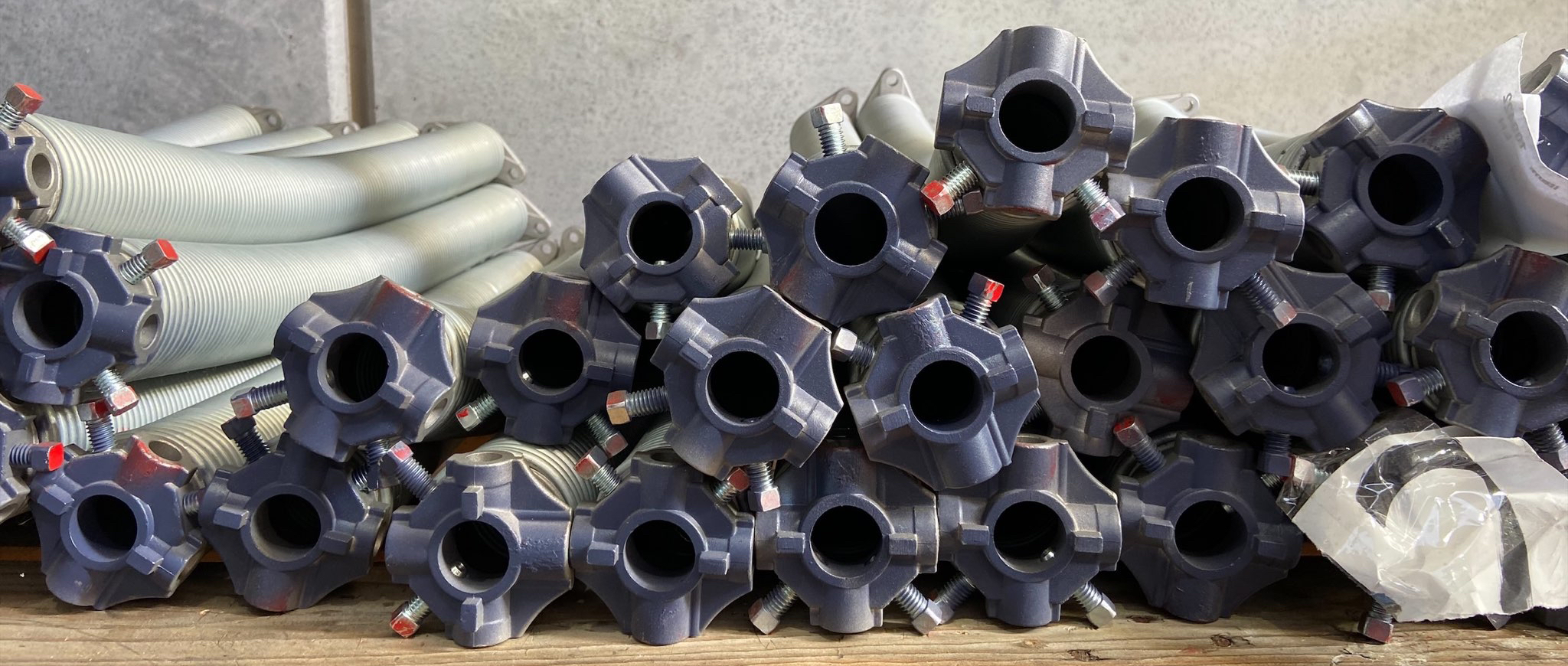 At National Springs, we create strong, powerful and expertly made garage door springs manufactured in New Zealand. If you're looking for sectional garage door springs, roller door springs or tilt door springs we have the solution. We keep a wide variety of standard dimensions in stock to ensure a quick turnaround. Our experts can also manufacture a custom garage door spring if standard sizes don't apply.
If you don't know exactly which garage door spring you need, our spring makers can provide advice on the best spring to suit your needs.
Sectional Garage Door Springs
Sectional garage doors use a special type of torsion spring that sits on a shaft above the inside of the garage door.
We stock standard sectional garage door spring sizes for the following types of garage doors:
Springs For B&D Garage Doors
Wire Size: 4.5mm – 7.10mm
Load Per Rev: 3.61kg – 9.75kg
Max Rev: 6.7 – 9.7
Max load: 24.10kg – 94.10kg
Coil Lenth: 372mm – 1225mm
Springs For Windsor Garage Doors
Wire Size: 5mm – 6.30mm
Load Per Rev: 4.25kg – 6.96kg
Max Rev: 7.7 – 9.4
Max load: 32.86kg – 65.76kg
Coil Lenth: 520mm – 963mm
Springs For Dominator Garage Doors
Wire Size: 5mm – 7.10mm
Load Per Rev: 3.53kg – 12.38kg
Max Rev: 7.6 – 9.3
Max load: 32.86kg – 94.10kg
Coil Lenth: 618mm – 1158mm
Roller Door Springs
Springs for roller doors also use a type of torsion spring but with a hook on the end. These are generally custom made so please contact the National Springs team. We can help you take the correct measurements and determine whether your roller door spring is left-hand wound or right-hand wound.
Tilt Door Springs
Tilt garage doors use extension springs which means they stretch when weight is applied and they have loops on each end of the spring. One end is typically attached to a fixed point and the loop on the other end is attached to the door.
Standard tilt garage door spring size ranges we keep in stock:
Wire Size range: 4mm – 6.3mm
Outside Diameter: 34mm – 48.5mm
Overall Length: 405mm – 650mm
Body Length: 323mm – 558mm
Replacing a garage door spring
If you need to replace a broken garage door spring you should read about the Three Main Reasons Why Garage Door Springs Break to help you extend the life of your new springs.
As a professional spring manufacturer, we recommend that any broken garage door spring is replaced by a specialist garage door installation company. The springs on a garage door can be quite powerful and can cause injury. A garage door specialist will have both the training and tools to complete the task safely and effectively.