Planning your Wire Form Project
As a wire form manufacturer based in Auckland, New Zealand, we have people from all sorts of industries coming to us with wire form projects not realising that that is what they are called. More importantly, they are not always sure about how to turn their concept into reality. That's why we want to give you some tips to help find the best wire form manufacturer in New Zealand for your next project.
What is a wire form?
First, let's clarify what a wire form is. Wire forms are wire shapes manufactured from wire spools and worked into a specified shape or configuration. The shape will depend on what the wire form is designed to do.
So, a wire form can be all manner of shaped wire products from a simple spring or safety pin, to a complex machine part or some element of an engine.
Wire forms have such an extensive range of applications that it is probably not an exaggeration to say that most people would see, or at least use, one every day. They are found in the home, in vehicles and in nearly every industrial sector.
Tips to find the right wire form manufacturer in New Zealand
It's not always easy to find the best person for any job you want to be completed. The most common practice is to ask around friends. However, while this may work well when selecting a tradesperson such as a painter or a plumber, it's a bit more difficult when looking for a company focussing on something more specialised like wire forming. So, here are some handy tips.
Tip #1: Look for a local (i.e., New Zealand) wire form manufacturer.
These days, we live in a global market and the temptation to purchase from overseas is huge. However, we all know the disappointment of ordering what we thought was a bargain from overseas only to discover that the finished article is not quite the quality we'd hoped it would be.
Ordering from a wire form manufacturer in New Zealand means you can easily contact the manufacturer during the planning part of the process to ensure that your needs are totally understood and any plans drawn up fit your unique requirements. It also means you can work closely with the manufacturer during the manufacturing process and then, in the event that something is not quite right, you can quickly contact the manufacturer and sort things out – at National Springs Ltd, we can even arrange for you to be there in person and work with the machine operator to fine-tune your design.
It also means continuity of supply. Before the pandemic, it was the accepted industry norm to source products from overseas production facilities because it was perceived as sometimes being cheaper. Covid has changed that. The disruption of supply means companies in New Zealand and our close overseas neighbours recognise the value of utilising a Kiwi wire form manufacturer. 
If you are living outside of New Zealand, there is still an advantage in ordering from a wire form manufacturer in New Zealand. The standard of metal used and expertise of processing are of a high standard and you can be certain, by choosing the right manufacturer, that you will receive a quality result.
Tip #2: Look around for a wire form manufacturer that will listen
There is a lot to producing quality wire form products and it all starts with a manufacturer who will listen to what you need. Make an appointment with a prospective manufacturer, talk about your project and see what questions they respond with.
A good manufacturer will listen first. They will be interested in your project. They will then ask questions that show they are familiar with the vital elements of wire form manufacturing. At the very least, they will want to know:
The precise use of the wire form. 

The size requirement of the wire form.

The environment your wire form is to be used in.
Knowing these factors will enable them to determine the type and gauge of metal best suited to your project and the best production process enabling them to price accordingly.
Tip #3: It's the finer details that make the difference
When looking for a wire form manufacturer, consider what the company has to offer beyond the product itself. For instance, at National Springs and Wire Products NZ Ltd, we pride ourselves on our client-focused approach which adds so much to the service we provide. This includes:
Quality assurance – we have a quality assurance procedure which we can discuss with you to ensure your finished product is of the highest quality.

Trusted testing protocols and materials specification – not only are our manufacturing processes closely monitored, so are the materials we use. This ensures the integrity of the finished product.

A responsive service that's genuinely collaborative – that's another way of saying, "We listen." Our primary focus is understanding what you need and fulfilling that requirement with a quality product that is durable and fit for purpose.

Significantly reduced supply timeframes – we understand the urgency of many of our clients. Once a project is underway, you want to keep it moving forward. We understand that and work to your timeline.

The convenience of dealing with people using a common language, culture and time zone – if you're a Kiwi business, using a wire form manufacturer in New Zealand makes sense, especially in terms of language and time zone – it means every business decision becomes a little easier. 

The confidence of dealing directly with the manufacturer – we prefer to deal directly with our customers. That way we can listen to their needs and respond directly so there are no misunderstandings.

The assurance of confidentiality. If you have sensitive design concepts, we are used to signing non-disclosure agreements and all designs/drawings are securely locked away.
Summary
Finding the right wire form producer can make or break your manufacturing project. As a New Zealand-based wire form producer, National Springs and Wire Products NZ Ltd provide all the skills and resources required to ensure quality production and to fit the timeline of our customers. Our long-term relationships with customers in manufacturing, construction, leisure and a wide range of other industries are a testament to the value and competitive advantage we provide to a wide range of businesses.
We are trusted for our New Zealand designed, made and supported wire products and are the chosen production company for many businesses, some wanting a one-off component, others organising a production run in the 1000's. Contact us today to discuss your wire product requirements.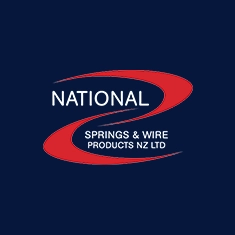 National Springs and Wire Products NZ Ltd is New Zealand's most comprehensive solution provider for springs and wire forms. Our unrivalled in-house design and development expertise ensures that you get the right solution for your specific project. Our state-of-the-art CNC equipment delivers high-quality, accurate and consistent product flow – fast.